Eagle Eye Laser
Willick Engineering's  LRF-30C   Eagle Eye Laser for industrial X-Ray tubes can provide instant  Centerline-of-the-Beam and  (SFD) Distance measurement without any moving parts obstructing the x-ray path.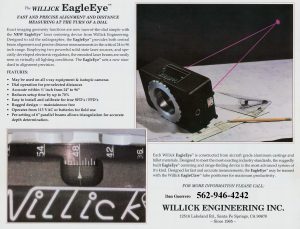 Download PDF:  EE-LRF-30C
Questions
?
regarding our X-Ray Support Services?
Contact us
Our friendly and knowledgeable team of NDT technicians are standing by to answer any questions you may have regarding Willick Engineering's X-Ray Solutions or any other industry related issues.
Request a Quote