VAREX IMAGING NDT X-ray Tubes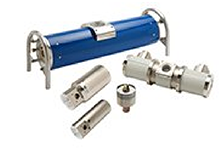 Nondestructive Testing
See More Details
Varex manufactures industrial X-ray tubes for applications in nondestructive testing (NDT), X-ray inspection, X-ray baggage screening, and thickness gauging. Our NDT product line consists of a broad range of glass and ceramic X-ray tubes providing a variety of target angles, focal spots, and power capabilities.
For inspection applications that require different imaging parameters, we can provide dual and single focus X-ray tubes with small focal spots for high-resolution imaging. In addition, Varex offers X-ray tubes with beryllium (Be) windows for low inherent filtration.
COMET X-Ray Tubes
COMET unipolar and bipolar X-ray tubes and the metal-ceramic insert range are available for a host of industrial applications. They range from small portable units to large fixed modules.
Bipolar Tubes
Unipolar Tubes
Questions
?
regarding our X-Ray Support Services?
Contact us
Our friendly and knowledgeable team of NDT technicians are standing by to answer any questions you may have regarding Willick Engineering's X-Ray Solutions or any other industry related issues.
Request a Quote